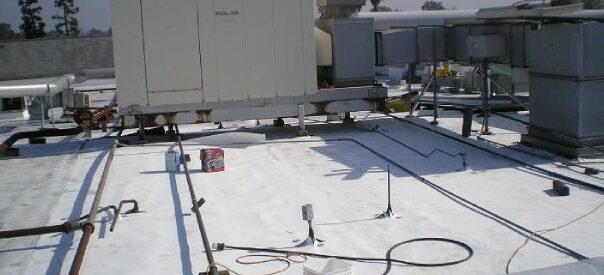 The team at South Valley Roofing Inc are here to serve all your commercial, industrial or multi-tenant roofing needs. We know what it takes to meet your stringent requirements because our own standards are of the highest level.
South Valley Roofing, Inc. is authorized to install commercial roofing for numerous U.S. manufacturers through their "Approved Applicator" program. We have years of experience doing it right and always offer both a fair price and designs that maximize roof life.
South Valley Roofing Inc can repair, maintain or re-roof any type of commercial, industrial or multi-tenant building. We coat, waterproof, and seal roof penetrations. We install sheet metal saddles, flashings, and required edge metal. We install gutters, drains, and downspouts. We waterproof walking decks and basement walls. Call us — we are THE commercial roofing experts.
Call 800-705-7663 or contact us to describe your needs and learn about our commercial roof evaluations and our commercial roofing maintenance programs with a warranty. Also ask about our complete re-roofing services. All our commercial roofing options are designed to improve your bottom line.
We take pride in keeping your tenants virtually unaware of roofing maintenance and re-roofing activities. Our safety practices, daily clean-up, efficiency and daily "dry-in" of any open roof areas will protect your investment and your tenants possessions and goods. Our skilled commercial roofing technicians are available to meet your emergency repair, scheduled maintenance or any commercial roofing or commercial re-roofing needs.